Motivation and BackgroundThe electrical activity of heart muscle cells is driving the heart rhythm. Cardiac arrhythmias are particularly frequent and severe diseases in our society. In Europe, more than 6 million people suffer from atrial fibrillation, for example.
Computational models of the heart have evolved to an important research tool complimentary to traditional wet lab or clinical studies. These models span different spatial scales and biological levels of integration from ion channels up to the ECG. They allow to test hypotheses under controlled conditions in order to foster our understanding of mechanisms causing, perpetuating, and progressing cardiac diseases as well as to optimize diagnostic tools and therapeutic approaches.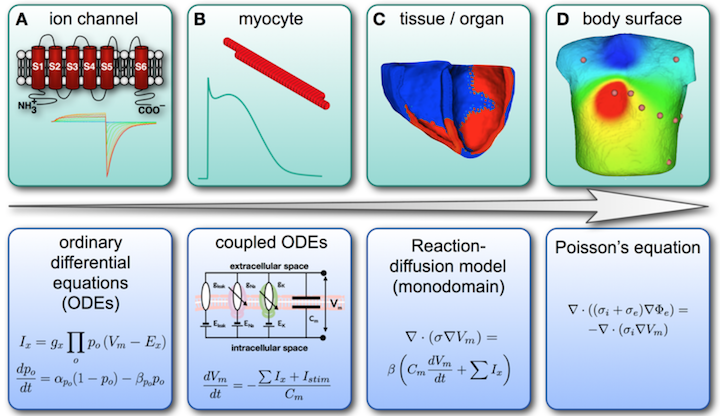 Student ProjectsAt IBT, computational models of cardiac electrophysiology are being enhanced and applied to contribute to answering clinically relevant questions. Student thesis projects (Bachelor/Master) can comprise model development, application, or both (e.g. "Can we see in the ECG if an atrium is enlarged?", "Which ablation patterns are best suited to sustainably cure atrial fibrillation?").
Depending on your background and interests, projects can comprise different aspects, e.g.:
Development and enhancement of models at different levels of integration (subcellular to organ)
Simulation studies
Literature research
Design and implementation of algorithms (MATLAB, C++, Python)
Parallel programming, GPU computing, Software engineering
Numerics (ODE, PDE, LSE)
If you are interested or have questions, just drop by, give me a call, or send an email!