Analysis of rhythmical and morphological properties of the ECG to detect cardiac abnormalities
contact:

project group:

Medical measurement technology, digital signal processing
Ectopic beats are together with atrial fibrillation the most common cause of cardiac arrhythmias. These arrhythmias can occur on healthy subjects but normally are related to heart diseases.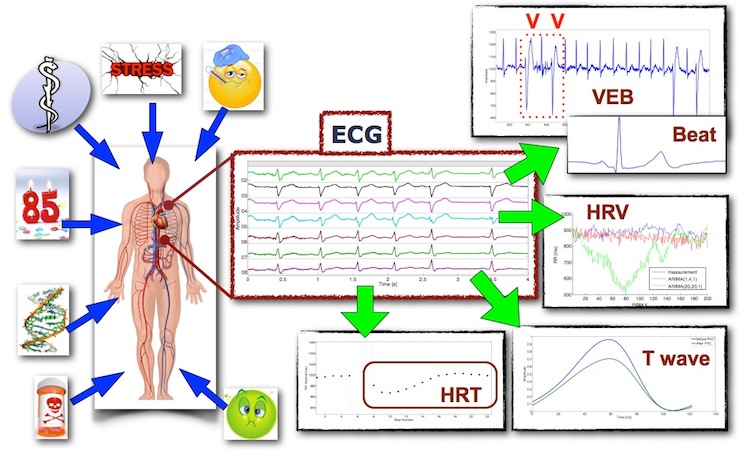 The 12 standard ECG leads are the usual way of diagnosing these cardiac abnormalities. In addition, there are other methods like the analysis of the RR and QT time series, the morphological variations of the ECG waves and the heart rate turbulence, that are highly relevant research topics.
The goal of this research project is the analysis of the surface ECG using innovative methods of signal processing, system theory, estimation theory, statistics machine learning in order to investigate the effects of external factors (diseases, medicine and physical stress) on the heart. These factors modify the normal rhythmical and morphological properties of the heart and can be used to diagnose a patient. Specially interesting for this research project are the ventricular ectopic beats. Such ectopic beats have their origin in the ventricles and can trigger tachycardia. They also generate short time fluctuations in the normal sinus rhythm of the heart (heart rate turbulence). This information can be used to estimate the risk of sudden cardiac death in a patient with a history of cardiac infarction. Modeling and simulation of those ectopic beats should help understand what physiological processes occur during such an event.
This project profits from its partners at other universities and hospitals that provide the medical studies for investigation. Furthermore, it is possible to run electrocardiographic studies with our cooperation partners.
Publications:
Ectopic beats and their influence on the morphology of subsequent waves in the electrocardiogram. In Biomedical Engineering / Biomedizinische Technik, 2013.
Removing ventricular far-field signals in intracardiac electrograms during stable atrial tachycardia using periodic component analysis. In Journal of Electrocardiology 2015
Awards
2018
KIT Doctoral Award, Karlsruhe, Feb/21/2018
KIT acknowledges outstanding doctoral researchers with the KIT Doctoral Award. One of the three prizes for the academic year 2016/17 was awarded to Gustavo Lenis for his PhD thesis "Signal Processing Methods for the Analysis of the Electrocardiogram".
2017
Semi-Finalist Rosanna Degani Young Investigator Award​, Conference "Computing in Cardiology" 2017 in Rennes (France)
Nicolas Pilia, Olaf Doessel, Gustavo Lenis, Axel Loewe, ECG as a Tool to Estimate Potassium and Calcium Concentrations in the Extracellular Space
2016
2nd place in student competition at the "DGBMT Anniversary (DACH) 2016 in Basel:
Joachim Greiner, Stefan Pollnow, Steffen Schuler, Gustavo Lenis, Gunnar Seemann, Olaf Dössel: "Simulation of Intracardiac Electrograms around Acute Ablation Lesions"
Awards at the Conference "Computing in Cardiology" 2016 at Vancouver (Kanada)
Bill and Gary Sanders Poster Award: Joachim Greiner, Tobias Oesterlein, Gustavo Lenis, Olaf Dössel: "Virtual Reality Visualization of Arrhythmias on a Smartphone"
Mortara Fellowship: Gustavo Lenis, Axel Loewe
2nd place in the young investigator competition at the workshop "Innovative Verarbeitung bioelektrischer und biomagnetischer Signale - BBS 2016" by Gustavo Lenis, Alexander Kramlich, Tobias Oesterlein and Olaf Dössel with the submitted paper: "Development and Benchmarking of Activity Detection Algorithms for Intracardiac Electrograms Measured During Atrial Flutter"
Faculty teaching award 2016:
Faculty teaching award of the faculty of electrical engineering and information technologies for excelent teaching and the creation of the video excercises for the mandatory undergraduate class "Lineare Elektrische Netze". The preis was given on the 14 of April 2016 during the annual ceremony of KIT.
http://www.kit.edu/foerdern/19689.php
2014
3rd place in the student presentation competition at the workshop "Innovative Verarbeitung bioelektrischer und biomagnetischer Signale - BBS 2014" by Nicolas Pilia, Gustavo Lenis, Olaf Dössel with the submitted paper: "Developing a new method to delineate the P wave using information from intracardiac electrograms"
Best Poster Presentation, Annual Conference of Computing in Cardiology, Boston, Gustavo Lenis
Submitted Paper: "Post Extrasystolic T Wave Change in Subjects With Structural Healthy Ventricles – Measurement and Simulation"
CC Studies Award, Coburger Convent, in recognition to his scientific achievements and for his contribution to the Coburger Convent, Gustavo Lenis
Young Investigator Award at the 41. International Congress on Electrocardiology at Bratislava, 2014.
T. G. Oesterlein, G. Lenis; A. Luik, B. Verma, C. Schmitt, O. Dössel
Submitted paper: "Removing Ventricular Far Field Artifacts in Intracardiac Electrograms during Stable Atrial Flutter using the Periodic Component Analysis – Proof of Concept Study"
3rd place in student competition, DGBMT annual conference 2014, Hannover,
T. G. Oesterlein, G. Lenis; A. Luik, C. Schmitt, O. Dössel
Submitted paper: "Periodic component analysis to eliminate ventricular far field artifacts in unipolar atrial electrograms of patients suffering from atrial flutter"