Impact of adrenergic regulation on the electrophysiological properties of ventricular myocytes

Although it is well know that there are sympathetic influences on both cardiac muscle contraction as well as on cardiac electrophysiology the quantitative meachnisms were not fully understood.
Only recently a mathematical model was published, characterizing the interaction of beta adrenergic agents on ventricular ion channels.

This project aims at implementing this model into the simulation environment existing at the IBT.
After succesfull implementation the model-behaviour will be analyzed by conducting a series of single cell and tissue simulations.
Results will be compared to existing electrophysiological models that do not account for adrenergic regulation.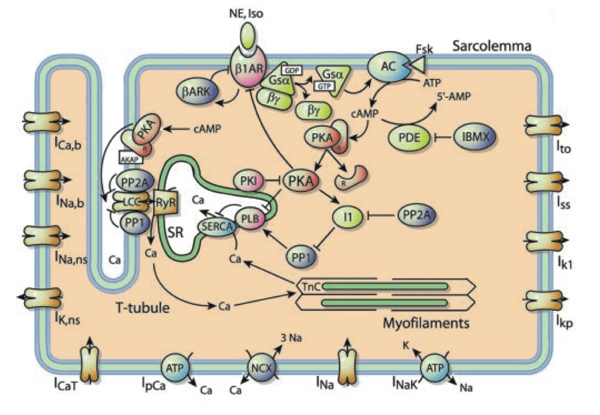 This is a schematic representation of the beta-adrenergic regulation mechanisms. Key-roles are assigned to the second messenger cAMP and the protein kinase A (PKA).