Intracardial ECG Signal Processing / Mapping of endocardial activation patterns
contact:

project group:

Medical measurement technology / Digital signal processing
Atrial Fibrillation (AFib) is the most common cardiac arrhythmia, showing an increasing prevalence with age. Hemodynamic impairment and thromboembolic events related to AFib result in significant morbidity and mortality.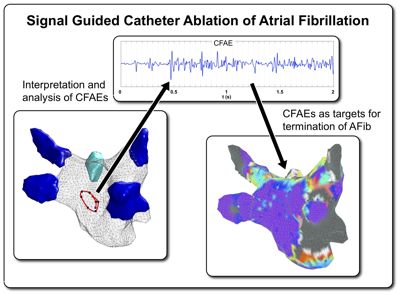 Catheter ablation, notably the electric isolation of the pulmonary veins, has become a well-established curative therapeutic approach in drug-resistant atrial fibrillation. Despite the considerable clinical experience and accumulated evidence from experimental data, the exact mechanisms behind AFib are still not completely understood. Different concepts like rotational drivers, ectopic foci or dissociation of layers are discussed controversially - together with their respective curative ablation approaches.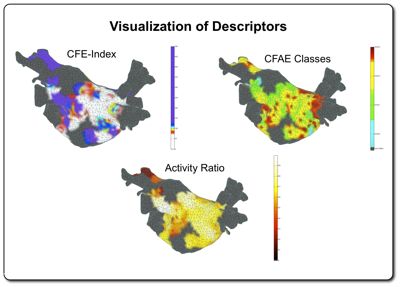 Together with Städtisches Klinikum Karlsruhe, we are trying to understand endocardial activity during AFib. Electrograms measured intracardially during an electrophysiological examination are analyzed with methods of signal processing and multivariate statistics. A large set of descriptors can be computed for each signal and used to classify several different types of fractionated electrograms. The spatio-temporal pattern of excitation is evaluated using simultaneous multichannel data from catheters recording in local high-density or in panoramic mode with up to 64 electrodes. Quantitative analysis helps to identify dominant mechanisms and their degree of stability. All information can be visualized on patient specific geometries and related to the atrial anatomy. This will support the physician in finding the best ablation strategy in treatment of AFib.
Recent Publications
T. G. Oesterlein et al. Removing ventricular far-field signals in intracardiac electrograms during stable atrial tachycardia using the periodic component analysis, Journal of Electrocardiology, 48(2), pp. 171-180, 2015
C. Schilling et al. Fuzzy decision tree to classify complex fractionated atrial electrograms, BMT, 2015
F. M. Weber et al. Wave Direction and Conduction Velocity Analysis from Intracardiac Electrograms - A Single-Shot Technique. IEEE TBME (57), 2394-2401, 2010
Awards
Finalists at Atrial Signals 2019 in Bordeaux:
Laura Anna Unger, Tobias Oesterlein, Annika Haas, Armin Luik, Olaf Dössel
with the Poster "Characterizing and Localizing Zones of Critical Conduction during Atrial Tachycardia Demands Ultra-high-resolution Electroanatomical Mapping"
2nd place Klee Award of the German Society for Biomedical Engineering (DGBMT) 2017
Tobias Oesterlein, Multichannel Analysis of Intracardiac Electrograms
Bill and Gary Sanders Poster Award, Conference "Computing in Cardiology" 2017 in Rennes (France)
Axel Loewe, Emanuel Poremba, Tobias G. Oesterlein, Nicolas Pilia, Micha Pfeiffer, Olaf Doessel, Stefanie Speidel:
An Interactive Virtual Reality Environment for Analysis of Clinical Atrial Arrhythmias and Ablation Planning
2nd place in student competition, DGBMT and DGMP annual conference 2017, Dresden;
M. Stritt, T. Oesterlein, S. Pollnow, A. Luik, and C. Schmitt.
Submitted paper: Assessment of local high-density mapping for the analysis of radiofrequency ablation lesions in the left atrium.
Award at the Conference "Computing in Cardiology" 2016 in Vancouver (Kanada)
Bill and Gary Sanders Poster Award: Joachim Greiner, Tobias Oesterlein, Gustavo Lenis, Olaf Dössel: "Virtual Reality Visualization of Arrhythmias on a Smartphone"
2nd place in the young investigator competition at the workshop "Innovative Verarbeitung bioelektrischer und biomagnetischer Signale - BBS 2016" by Gustavo Lenis, Alexander Kramlich, Tobias Oesterlein and Olaf Dössel with the submitted paper: "Development and Benchmarking of Activity Detection Algorithms for Intracardiac Electrograms Measured During Atrial Flutter"
Young Investigator Award at the 41. International Congress on Electrocardiology at Bratislava, 2014.
T. G. Oesterlein, G. Lenis; A. Luik, B. Verma, C. Schmitt, O. Dössel
Submitted paper: "Removing Ventricular Far Field Artifacts in Intracardiac Electrograms during Stable Atrial Flutter using the Periodic Component Analysis – Proof of Concept Study"
3rd place in student competition, DGBMT annual conference 2014, Hannover,
T. G. Oesterlein, G. Lenis; A. Luik, C. Schmitt, O. Dössel
Submitted paper: "Periodic component analysis to eliminate ventricular far field artifacts in unipolar atrial electrograms of patients suffering from atrial flutter"